The Golden Rules For a Great Customer Service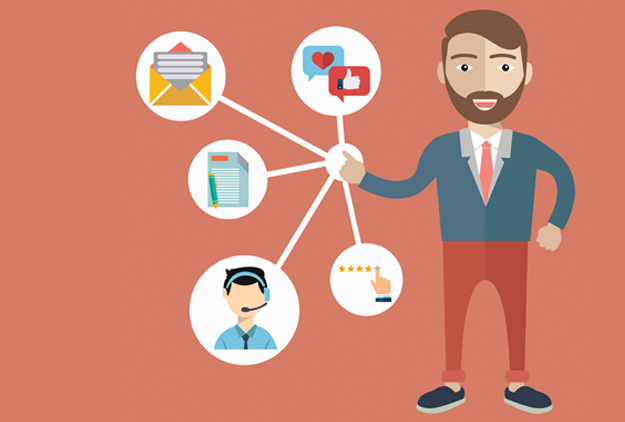 Designed by Freepik
The great customer service is what will enhance the level of customer satisfaction and will leave a positive experience for your customers. Thus, any company that wants to maintain the happiness of its clients must leave the customer with the feeling that the product or service has met their requirements and expectations.

We have mentioned before how good for your business is to always leave the customers happy. Successful and remarkable customer service shows your customers that your company/organization is trustworthy and cares about their experience and feedback. The relationship between your customers and your company must be built on trust, honesty, responsiveness and reliability.
Customers expect the company representatives:
To greet them with respect and a smile, thus, they would expect your customer service representative to be approachable and welcoming.
To talk to them in understandable language and manner, and be given the information they need clearly and in time.
To be precise and always give them accurate information that is up-to-date, reliable and relevant.
To be supportive and friendly,and give their case the attention it requires and will take it personally to resolve their issues.
Will not simply follow a scenario or manual, but will try and understand their issue, be innovative and find the solution, instead of arguing if they are not equipped with the knowledge needed at the time or if the customer is not completely right.Therefore, to build such professional business environment, your company members should be educated, communicative, patient, creative, effective and with perfect time management skills. Quick decision-making and timely reactions are always appreciated and expected by the customers.
Always make sure your company representatives are:
Equipped with knowledge of the latest problems and their solutions regarding your business projects, services and products. In other words, always give your team of customer service members all the information they need to do their job in a way that will make your clients happy.
Communicative and know they way with words because silent people which do not take action in the conversation and forget to ask and search for the information they need from the customer will not be able to effectively resolve any problem.
Patient and friendly, since your customers have a problem, they are looking for support, not someone who will be eager to hang up on them, close the connection or will not pay any attention to their needs.
Creative and quick-thinking. Often companies make scenarios and expect their customer service agents to act on them, yet that is not always possible, therefore your team must be creative and know how to think outside the box to accomplish their task and satisfy your customers.
Efficiency and performance are always appreciated from the customers. If your company finds the right solution quick they will know you are reliable and will always recommend you.
Feedback is essential!
More importantly always search for the customers feedback for the service he had received. Creating a quick email template to engage the customer and receive his feedback will not only inform your where your service needs improvement, but will also let the customer know his opinion and happiness are valuable for you.
Timing is everything for a great customer service!
You must always make sure your customer service representatives are not slacking and procrastinating, and all related departments are doing their job. Use time and attendance tracking software to monitor the activities of your company, communication tools to keep your employees informed and connected. If this is not happening, all of the above remarks and rules are irrelevant and useless. For this reason, you need to regularly monitor and manage the activities of all departments and ensure that all actions are completed timely and according to plan.